The Most Common Types of Work Injury
The three most common types of work injuries are overexertion, slips and falls, and contact with equipment. Chiropractic care can provide treatment for many of these injuries and even help you prevent an injury before it occurs. If you are in the North Miami area, Keystone Wellness Center can help.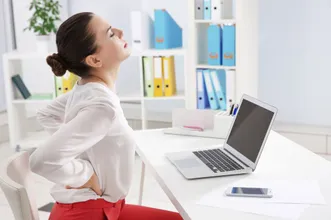 Overexertion
Overexertion injuries have two basic causes and are the leading cause of work injury. The first is lifting, pushing, or pulling a significant amount of weight improperly. These are sudden injuries. Lifting a box and injuring your back or twisting suddenly and feeling pain are examples. Back injuries are the most common accident injury from overexertion.
The second type of overexertion injury is repetitive motion injuries. Carpel tunnel syndrome is a common example of this type of work injury. They occur over time, as certain movements are repeated. Tendonitis is the most commonly seen type of repetitive motion injury. This occurs when the tendons become inflamed or injured due to repetitive motion. It is commonly seen in the wrists and fingers, but it can occur in any tendon.
Slips, Trips, and Falls
Slips, trips, and falls are the cause of 1/3 of all work-related injuries. This includes injuries caused by falling, like sprains and broken bones. However, strained muscles and spinal misalignment can also occur. Many times, when someone slips and moves their body quickly to avoid falling is what causes the work injury, instead of an actual fall. Tripping over an object can also cause joints to bend in the wrong way causing joint, tendon, or muscle injury. Sprains, strains, and tears are the most common type of slip and fall injury.
How Can a Chiropractor Treat Work Injury?
A chiropractor can treat many of these common work injuries. Chiropractors do not just treat the back. They can help relieve pain and restore alignment in many areas of the body. In addition, they can prescribe corrective exercises that can strengthen the area and help prevent future injuries.
If you have experienced a work injury in North Miami or simply want to avoid these common injuries, Keystone Wellness Center can provide the treatment you need. Work does not have to hurt. Contact us today to learn more about how we can help you with your specific condition.
Contact With Objects or Equipment
This type of injury occurs when the person's body meets an object. This often occurs when the worker meets the machine or equipment they are working with. Moving objects can also hit the worker and cause injury. Cuts, lacerations, and punctures are the most common type of injury from contact with objects. However, vibration injuries can also occur. Like repetitive motion injuries, these usually occur over time. Vibration injuries can cause damage to the muscles, joints, and tendons. It can also cause nerve damage.