Prenatal Chiropractic Services from Our Chiropractor
Pregnancy is a time of both excitement and challenges. Discomfort can make it hard to eat, sleep, or just get through normal daily activities. At Keystone Wellness Center in North Miami, we offer prenatal chiropractic treatment that brings relief and increases overall wellness. All therapies our chiropractor uses are non-invasive, holistic, natural, and change as necessary as from one patient to another.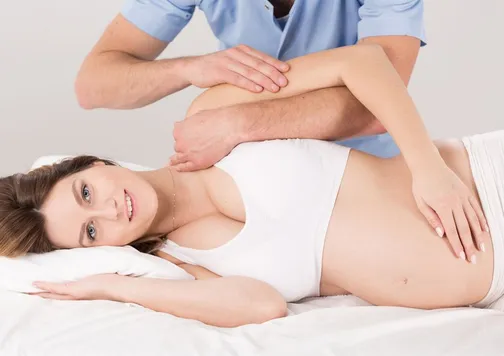 What Is Prenatal Chiropractic Treatment?
Prenatal chiropractic care is chiropractic care offered during pregnancy. Our chiropractor uses gentle and careful techniques that realign the spine and restore proper functioning of organs and nerves to make pregnant patients feel more comfortable. This treatment is also useful to correct issues linked to pelvic misalignment and balance.
Chiropractors who offer these services have received specialized training with pregnant women. Adjustments are comfortable and safe when offered by an individual with this training. They avoid putting excessive pressure on the abdomen and sometimes include the use of special treatment tables that adjust to accommodate a pregnant patient. Prenatal chiropractic services always take into account any alterations in physiology and endocrinology during a pregnancy and the resulting misalignment of the spine or joints.
Benefits for Expectant Mothers
According to our North Miami chiropractor, these services can help patients with a number of problems related to pregnancy. Some of them include:
Pain in the lower back
Swollen ankles
Sciatic nerve pain
Sleep issues and exhaustion
Anxiety and depression
Neck pain
Nausea
Treatment sometimes also results in reduced labor and delivery time and in the prevention of some Caesarean sections. Our patients receive education on nutrition and home care. In addition to improving the alignment and strength of the patient's back, our doctor can work with the new mother during her recovery period to deal with pain, posture issues, and trouble walking.
Core items in most prenatal chiropractic treatment plans include therapeutic exercises, joint mobilization, and soft tissue therapy. Each plan is customized to individual patients and meets each new challenge as pregnancy progresses. Typical problems are increasing weight and loosening ligaments. In addition to targeting spinal cord issues, treatment also addresses problems with ligaments and muscles.
Schedule a Consultation with Our North Miami Chiropractor
The goal of our Keystone Wellness Center staff is to help each patient live a long and healthy life. Our North Miami practice uses an individualized approach to treatment to help each patient achieve full-body wellness. In addition to prenatal chiropractic services, we treat chronic pain and injuries using natural therapies. Take a moment to call us today at (305) 893-8822 to schedule a consultation with our chiropractor, Dr. Ryan Fisher, and learn how chiropractic can help you reach a new level of wellness.